Superior Home Inspections, LLC
SHOWING A HOME'S TRUE COLORS
A Step Beyond What's Expected
When investing years of savings into a new home and dealing with what is likely a substantial loan from the bank, the last thing that anyone wants to experience is that dreaded sequence of words—"buyer's remorse." At Superior Home Inspections, LLC, we're here to make sure that doesn't happen. We offer a top-notch home inspection that goes a step beyond what's expected so that you can lay eyes on a home's true colors. However, we're not deal-breakers—we simply want you to know a property from top to bottom before making a high-stakes decision.
Stay Informed With Next-Day Digital Reports
Our thorough and easy-to-read inspection reports are available within 48 hours of your appointment. Along with a detailed description of each individual item, we incorporate numerous photographs and video documentation to reinforce your understanding of certain issues. In order to remain true to our brand, Superior Home Inspections takes great strides to stay on the leading edge of customer satisfaction. That's why we include the user-friendly Create Request List™(CRL™) feature by HomeGauge.
With the CRL™, you can:
Collect individual findings directly from your report to create a project request list with one convenient digital interface

Fine-tune and prioritize your list with the help of your real estate agent in order to present a realistic and negotiable set of options to the seller of the home

Have instant access to a record of the stipulations you've put into place as a prospective buyer—whether your requests involve replacement of a component, repair, or monetary coverage.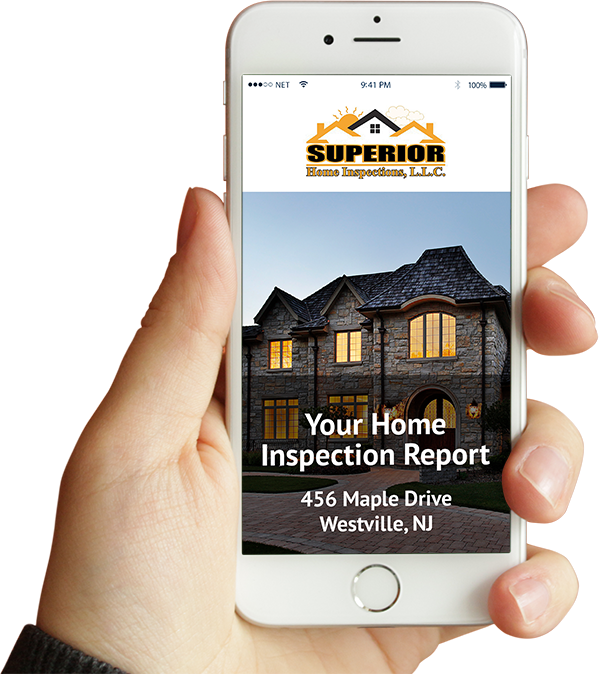 Taking Care of South Jersey's Home Inspection Needs
We're proud to offer complete home inspection services to South Jersey and the surrounding areas.
Superior Home Inspections, LLC is South Jersey's premier home inspection service, dedicated to quality, convenience, and integrity. Contact us today to request an appointment.